JUG İstanbul Ocak 2020 Bülteni
Merhabalar.
Yeni yılın ilk bülteniyle karşınızdayız. Sizleri kısaca, Ocak ayında gerçekleşen ve yakın zamanda gerçekleşecek etkinliklerimiz hakkında bilgilendirmek istiyorum.
Java Day İstanbul Podcast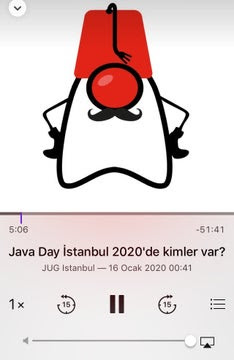 15 Ocakta Altuğ Bilgin Altıntaş, Gökalp Gürbüzer ve bendeniz, Java Day İstanbul'da bu yıl kimler konuşmacı olacak, hangi konu, teknolojiler ön plana çıkacak; workshoplar'da katılımcıları neler bekliyor gibi soruları yanıtlamayı amaçlayan bir sohbet gerçekleştirdik. İlgili sohbeti iTunes ve Spotify kanallarımızdan takip edebilirsiniz.
Java Day İstanbul 2020 Programı Yayınlandı
Topluluğumuzca organize edilen, bu yıl 6.sı düzenlenecek Java Day İstanbul konferansının programı açıklandı. Birbirinden değerli konu ve konuşmacılar, değer katıcı workshopların olduğu program şöyle:
Keynote for Java Day Istanbul
Seven Principles of Productive Software Developers – Sebastian Daschner
When working as a software developer, as well as in any other job, it's important to be productive and to get things done. You want to focus on what adds value, increase your development speed, and cut out as many of the cumbersome, boring and repetitive tasks as possible. Read More
Sessions for Java Day Istanbul
Java / Containers
Frameworks / Platform
Reactive
Mobil
All Other Technologies
Workshops for Java Day Istanbul
Java Day Istanbul offers workshops that allow you to deep-dive into a specific technology. You can choose between 3 workshops:

Eclipse MicroProfile with Ivar Grimstad

In this workshop, you will learn about the MicroProfile programming model for developing microservice applications. Although MicroProfile is currently based on Java EE technologies, the expectation is that this will evolve to using the corresponding Jakarta EE technologies. We will go through the APIs and implementations. Read More

Create, Deploy and Secure your Cloud Native Microservices with Sébastien Blanc

In this workshop where you will, from Scratch, create a set of Microservices, crafting them to be good Cloud Native citizens. Then you will learn how to deploy them in an effective way in Kubernetes, covering scaling, monitoring and enabling the different health checks. Read More

Building Tesla's Battery Range Calculator with Vue.js or ReactJS with Peter Eijgermans
Which language do you like: ReactJS or Vue.js? During this talk I walk through the process of building a Tesla's Battery Range Calculator with ReactJS and Vue.js. Read More
Pre-Conference
Java Day İstanbul katılımcılarına, konferans öncesi 13 Mart 2020 tarihinde 13:00 – 17:00 saatleri arasında 4 workshop'tan oluşan bir konferans öncesi gün sunmaktadır. Konferans öncesi gün için sınırlı sayıda yer olacağını unutmayın. İlgili workshoplardan birine katılmak için, bilet alım işlemi ardından bir form doldurmalısınız. Tüm koltuklar tamamlandıktan sonra kayıtlar kapatılacaktır. Kontenjan 70 kişi ile sınırlı.
İşte workshoplar:
Jakarta EE Microprofile Bootstrap Workshop with Effective Java Principles @Altuğ Bilgin Altıntaş
In this workshop you will learn how to start a real world Java EE project .The focus of this workshop is understanding the principles, ideas and paradigms behind Java EE.
We will create together a Java EE with MicroProfile application. Java EE 8 + Microprofile are amazingly productive, so one day is more than enough for a real-world start. You only have to know a bit about Java 8. More Info

Modularization Way to Microservice Architecture by Java Module Apı @Taner Diler

In this workshop where you will discover the safe-way to reach Microservice Architecture by modularizing application. More Info

Introduction to RxJava by Applying to Existing Applications @Hüseyin Akdoğan
In this workshop, you will learn RxJava and its programming model for developing reactive applications.

RxJava, the Java VM implementation of ReactiveX(Reactive Extensions) is a library for composing asynchronous and event-based programs by using observable sequences. It implements the programming model of the Reactive Flow specification, which processing asynchronous streams with non-blocking backpressure. More Info

Integration Testing with Docker and Testcontainers @Kevin Wittek

In this workshop we would like to show how you can use Testcontainers – a popular Java testing library that harnesses Docker to easily, reliably, spin up test dependencies.
We will use it with a Spring Boot microservice and test against real PostgreSQL and Redis data stores, we'll isolate it from other microservices, then start Selenium browsers in Docker and test our application, and all with the same library! More Info
Tekrar görüşmek dileği ile…